Middletown: Michael Casey talks Middletown
Michael Casey Talks 'Middletown'
02-Nov-06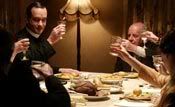 Daniel Mays in Middletown

Director Brian Kirk's debut feature film 'Middletown' opens across Ireland this week. Hailed as "poisonously delightful" by critics, the dark thriller looks set to become a highlight on the Irish cinematic landscape.

Described as a "modern day western about God, man and the madness in between", 'Middletown' is set in Northern Ireland's bible belt. Starring Matthew Macfadyen (Pride & Prejudice), Daniel Mays (Vera Drake), IFTA winning actress Eva Birthistle (Ae Fond Kiss) and IFTA winning actor Gerard McSorley (Omagh), the film follows preacher Gabriel (Macfadyen) who returns home to Middletown to find the town's inhabitants are given over to vice and sin. Determined to save the souls of his flock, he sets about imposing a new order.

'Middletown' is an unnerving yarn that begins to unfold when Gabriel's godly intentions mask a dark and malevolent heart with his damning sermons pitting neighbour against neighbour – even threatening his own family whom he scorns for their sinning ways.

Written by Daragh Carville, the film was shot on location in Ireland during the winter of 2005. It marks the feature directorial debut for BAFTA nominated director Brian Kirk who has displayed promising talent working on television series like 'Murphy's Law', 'Funland' and most recently 'The Tudors'.

'Middletown' is a Green Park Films production in association with Chapter Four and was produced by Michael Casey (Freeze Frame). IFTN catches up with Casey for a quick Q&A before the film is released upon the Irish masses.

Okay Michael, can you tell us briefly how you would describe this film?

I'm happy to rely on the opinions of reviewers who have really loved it, people like Michael Doherty in the RTE Guide, they've called it things such as "one of the finest films to emerge from Ireland", and the "best film since 'Adam & Paul'". It's great that people are responding to it the way we hoped.

How do you think the movie will fare when it opens this week?

It's impossible to guess how audiences will react. We're hoping they'll respond in numbers, hoping the film will stick around long enough to get the value that good word of mouth can achieve. It's tough because a film like this could get lost in the level of competition at the cinemas but that's the business and I'm happy to be a part of that. It really depends on people who go earlier on – so the film can get an audience.

What's been the reception at festival screenings?

The reception has been really good. We took the movie to New York and it screened at the Tribeca Film Festival. In New York you really find out if it's a parochial or international film and fortunately for us, it was the latter. Audiences have been really engaged in the film and people who love their cinema really go for it. It has also screened in Spain, Holland, Denmark and in Ireland at the Cork and Galway festivals and so far audiences have been moved.

Obviously the material in the film is quite dark, do you think this is a film for everyone?

Yeah I do think so. I think there's room for work of this kind. I enjoy going to see dark material as much as light. Anyone who has seen 'The Departed' will know they can do dark material in a commercial context. I think that's what we have done. Anyone who is interested in the craft of filmmaking and the Irish industry, yes definitely, and I'm not being self indulgent when I say this, but it really is accessible for other audiences too

At what stage did you become involved in the project?

I was involved from conception. 'Middletown' was one of the first films that Daragh Carville, myself and Brian Kirk started developing. It took about five years from conception to delivery and we've worked as a team throughout.

How do you know Brian?

Brian and I made a short film together five years ago. From there we decided to continue working together trying to make a feature and Daragh was the first and last person we spoke to. The three of us have developed a close working relationship and we have a number of projects that will follow this.

What was the budget?

Approx 2 million

Can you talk a bit about the funding?

It was backed very early on by the Irish Film Board and the NIFTC. Despite the brilliance of the script and the cast attached it was actually quite a tricky project to finance and the forbearance of both bodies was a big part of getting the finance completed. BBC Northern Ireland came in at a very crucial stage and distributor Eclipse Pictures were involved from very early on. After that there was Section 481 and Sale and Leaseback.

So what was the difficulty in financing? Was it a hard sell?

There was no creative difficulty with the project, it was just the usual process that makes it incredibly difficult to finance low budget Irish movies. I'm sure it's the same for other producers working in Ireland, we all find it difficult to find a space for our films in what is essentially a quite conservative market place. Everyone wants to wait and see and working through that on a micro to mid budget film is a treacherous path to get through.

It's a stellar cast, you've got Matthew McFadyen, Eva Birthistle, Daniel Mays, Gerard McSorley and a great Irish supporting cast in there – how did you manage all that?

We were really lucky with the casting in so far as everyone we sent the script to really loved it. It was about the material in the first instance which Daragh must take credit for and, after that, once they sit down with Brian they feel protected, they can trust him in the way he will preserve their talent as actors. They know they're in good hands, they'll be looked after and yet at the same they'll be pushed for their best performance. Both of those elements are critical from an actors point of view.

Of course having Matthew [Macfadyen] involved was a big deal. We had him before he got the role in 'Pride and Prejudice', and his work on that production held us up, but even after his success with that he came back to work on ours which is a great testament to him, to the material and the team.

Daniel [Mays] has worked with Brian previously on the BBC series 'Funland' and the Irish cast were great too. I have to say it is really astonishing - every time I look at the film I'm amazed at the depth of talent, from the small roles right through. It's as good an Irish cast as I've seen lately and it was a genuine privilege to work with them.

Obviously it was a tough shoot, being low budget, but were there any highlights from the shoot in Belfast?

[laughs] All the exteriors were shot at Glas Lough in Monaghan in November 2005. It was so cold the paint on the sets wouldn't dry and there were days we had to clear the snow from the road by hand. But even within that foreboding atmosphere, it offered a lot to the look of the film, like when there were days we filmed in incredibly think mist, that's stuff you can't buy on a budget like ours.
Towards the end of the film there are a lot of explosions and I have to say Team FX were wonderful. They went beyond what we'd asked of them and what we could afford. Explosions? In Middletown?
Brian has been hailed as one to watch – are you pleased for him?

I'm thrilled and it's totally deserved. He's a joy to work with from a producer's point of view.The relationship he has with the crew and the cast is great to experience and he brings value to any production. The attention he is getting from 'Middletown' is, without reservation, wholly deserved.

Your own career seems to be going from strength to strength – any thoughts on branching outside of the Irish sector?

Yes, I intend to and would love to. I've worked on a number of low budget features in Ireland and it's instructive with an incredibly deep learning curve. I'm certainly not alone in Irish producers wanting to make bigger budget films that will be shown on more screens in more countries.

The team I've worked with in the past have moved along at that same pace. We've been a long time working in the trenches of low budget movie making and I think we're capable of stepping up to that platform now - and it's been a most interesting way to get there.

How do you choose the projects you work on?

By and large I choose material through the voice of the people behind it. With Daragh, Brian and John Simpson (whom I worked with on 'Freeze Frame'), it was about a commitment to helping them realise their voices and a desire to be part of that when it comes to screen. Through that mutual commitment, the material has come forward. The relationship doesn't start on a particular script. For me, it's about the voice that has to inspire me to get through the process of making the film – which is far from easy!

' Middletown' is released across Ireland through Eclipse Pictures.
Login to post comments

10076 reads